Tattu 220mAh 3.7V 45C 1S1P HV Lipo Battery with Eflite Connector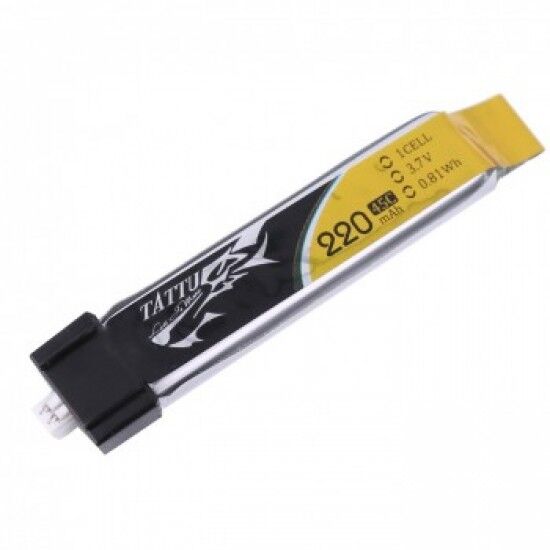 -25 %
Tattu 220mAh 3.7V 45C 1S1P HV Lipo Battery with Eflite Connector
Stock:

In Stock

Cash Back Rewards:

$0.00

Model:

TA-45-220-1S1P

SKU:

TA-45-220-1S1P
Order now and your item will ship the following business day.
Notice: This is an Eflite Stock Connector Tattu 220mAh 3.7V 45C 1S1P HV Lipo Battery Pack.
Tattu 220mAh 3.7V 45C 1S1P Lipo Battery Pack with Eflite Stock Connector is the best battery choice for micro quads. This lipo comes with 45c discharge rate, enough power, high burst, makes indoor racing be much more fun. Tattu tiny whoop battery is made of the best materials in lipo industry, and it is stable, safe and powerful. Can be charged to 4.35v, Max 240mAh.
---
Features:
- Stable automatic stacking technology enables single-cell capacities of 220mAh (Max 240mAh).
- The most strict single cell capacity, voltage, resistance, discharge curve matching process.
- Superior Japan and Korea Lithium Polymer raw materials.
---
Specifications:
- Minimum Capacity: 220mAh (Max 240mAh)
- Configuration: 1S1P*5 / 3.7v (Max 4.35V)
- Discharge Rate: 45C
- Max Burst Discharge Rate: 90C
- Net Weight(±20g): 5.5g
- Dimensions: 51mm Length x 12mm Width x 6mm Height
- Pack: 1 pcs
- Connector: Eflite Stock Connector
---
Compatible with:
Tattu 220mAh 45C 1S1P 3.7V HV Battery with Eflite Stock Connector provide high quality, reliable power is reliable power for micro quadcopters such as Tiny whoop, Blade Inductrix FPV, Blade Inductrix FPV Pro and Horizon Inductrix etc.